Scouting Elk Country DVD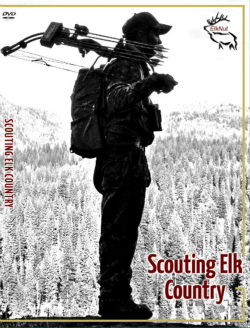 ElkNut, Paul Medel, has a DVD about how to scout elk country. He talks about what to look for to find elk in the area you plan to hunt. This resource shows how to find those characteristics that attract and hold elk using maps and other resources, even when you don't live near your hunting area.
The Scouting Elk Country DVD shows actual footage of a variety of types of elk country, then shows the corresponding areas on topo maps. This will help you figure out which spots hold elk and where you'll find them at your hunt location during the different months of the fall season.
Enhance your scouting for your upcoming rifle or archery elk hunt with: Elk Nut's Scouting Elk Country DVD. You'll find it available with free shipping for $13.95 at the link above.
Elk Tips Outdoor Gear
We ship hunting gear directly from our local store, Elk Tips Outdoor Gear in Deer Lodge, Montana. Shipping is free in the U.S. for orders of $50 or more. We specialize in archery and hunting. We give special orders special treatment, fast! If you do not see what you are looking for in our online store you can contact us here, or call 1-406-431-0876. Our prices are very competitive.
Archery Season Continues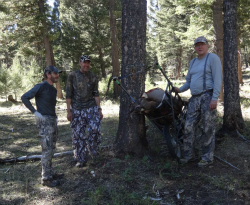 We hope your archery season is resulting in some harvest of some lean, grassfed, organic meat! I have no excuse for not having a nice herd bull harvested. I ranged a tree that the bull was headed for at 50 yards, put my 50 yard pin on him and let fly. My arrow sailed over his back!

I rechecked the tree that I had stopped the bull by at full draw and came up with a much closer distance. I had accidentally ranged a tree behind him.

At least I get to continue to enjoy the beauty of elk country!
---
As always, feel free to send us a message.
---
My favorite elk hunting area. Somewhere near Garrison, MT

---