Elk Calling Failures Lead to Success
The smoke in our area of Montana elk country is gone! The rain, cold weather and snow made a big difference. There is not a lot of elk noise going on where I hunt. I must admit I'm stuck in a rut (excuse the pun) and only hunt a few local places. But, I hunt them relentlessly.
I heard some low bull groans this morning and I knew which way he would travel. So, I got out ahead of him and started calling to him. I turned around to look where the young raghorn was NOT going to come from. There he was watching me make cow elk sounds. He exited with a cow he was hanging on to for dear life. Now he's educated: "Humans can make those sounds, too!" That's what we deal with on public land hunts; educated elk.
The elk have to get it right every time. We only have to get it right once a year. I "fail" many times each year at opportunities to kill elk. So will you. Don't let it get you down. Just keep after opportunities to try. The more times you fail, the more often you will succeed. Succeeding at elk hunting follows only after failures.
I get it right once every year because I keep at it relentlessly! I failed 5 or 6 times last year to connect with some bulls. I got one opportunity right in 2016. We're still eating from the bull in the picture. It only takes one successful encounter per year.

Winston Churchill said, "Success consists of going from failure to failure without loss of enthusiasm." Successful elk hunting follows only after exhausting failures. Successful elk hunting is a relentless, enthusiastic pursuit! Just keep on failing, so you can succeed.
Elk Down, Now What?
When you do succeed, there are ways to make the task of dealing with a heavy dead animal easier.

For instance, the Gutless Field Dressing Method can be so much nicer and it isn't hard to do. Quartering elk that way, or the traditional way makes the haul managable and cools the meat down faster. Deboning an elk might give you a bit of a sore back from bending over on the ground, but not as bad as moving bones!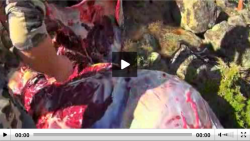 We have a series of pages (including some videos) that are dedicated to the topic of " "Elk down! Now what?" I hope you have to do it! It's one of the greatest "tireds" I've ever experienced.
---
As always, feel free to Contact Us here. Or call, 406-431-0876. We'd love to talk to you.

Facebook page ElkHuntingTips.Net

Facebook page Elk Tips Outdoor Gear, LLC
---
The springtime view of the mountains near our home in Garrison, MT

---