5 Basic Elk Sounds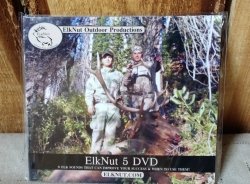 There are five basic elk sounds we should know and practice this fall. If you know these five, it could help even into muzzle loader and rifle seasons.
Don't believe it when you hear "bulls run from bugles". They run away with their cows, if you make the wrong bugle at the wrong time. Not all bugle calls mean the same thing!
Here are the five basic calls:
Location Bugle
Advertising Bugle
Challenge Bugle
Nervous Grunt (asks for a response)
Varied Cow Calls, including the estrus buzz (not just used during estrus)
There is much more to elk vocalization, but these five are a great start. Especially the nervous grunt!
ElkNut Productions has a 90 minute DVD called the ElkNut Basic 5 . MP3 files are included, so you can listen without a DVD player. Paul explains these calls, how to make them and how to respond to them. Know what is going on among the elk you are hearing and get them to do what you want them to do!
It will take a couple of days of practice to get these five sounds in your arsenal. Don't just talk AT elk. Talk with them. Or, just get in close based on what you hear.
Ultimate ElkNut Combo Pack Price Reduced!
If you want to dig deeper into elk vocalization, we have the Elk Nut Basic 5 in the money-saving Ultimate ElkNut Package . We just reduced the price of this combo. The bundle also includes Scouting Elk Country, ElkNut's Playbook (audiobook or field-worthy hard copy), (actual) Sounds by te Elk CD, Bugling Bulls and Beyond Volumes 1-5, and Elk Hunting Techniques: Advertising and Breeding Sequences.
---
As always, feel free to Contact Us here. Or call, 406-431-0876. We'd love to talk to you.

Facebook page ElkHuntingTips.Net

Facebook page Elk Tips Outdoor Gear, LLC
---
The springtime view of the mountains near our home in Garrison, MT

---