You Can Learn What
They are Saying!
You spend a lot of effort to be successful at elk hunting, so don't do like most elk hunters and guess what is being said by the elk or yourself! Stop guessing and learn the language, so you can respond intelligently. Otherwise, you might be standing there wondering, "Why did that bull walk away?" If what you say doesn't make sense, or is the wrong thing at the wrong time, he'll just leave.
We need to start studying and practicing elk talk now. Spending time early learning the meaning of the various elk sounds, will "improve your chances of close encounters of the herd kind" this fall!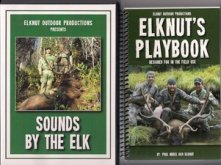 You can learn what the different sounds mean. No one has studied the nuances of the recognizable elk sounds like Paul Medel, of Elk Nut Outdoor Productions ("cutting edge elk calling and elk hunting tactics"). These are instructional elk hunting videos and elk calling techniques. They are not entertainment hunting videos.

Yes, it will take some study and practice, but clear resources are available to learn from: Elk Nut Outdoor Productions. One guy emailed me after using some of ElkNut's products that he ordered from ElkHuntingTips.Net. He referred to them as the "Rosetta Stone of the elk language!" Indeed they are.
There's A Lot You Can Learn
Let's be honest. Most seasoned elk hunters want to think, and have others think, that we know a lot about elk communication. It's hard to admit that you have something to learn, when you're regularly successful at it.
Trust me. If you haven't gone through ElkNut DVDs, CD and the Playbook, you have no idea what you don't know! Try some of them and see if I'm wrong. If you find that you don't learn lots of things you had no idea about elk communication and elk hunting, return it and I will refund your purchase price!

Anyone who attempts to learn a foreign language knows that if you don't use the language, the ability to speak and understand that language diminishes. I listen and practice with these every year. Like learning a language, if you don't use it you forget much of it.

I don't speak directly to elk except in the fall! So, I listen to ElkNut recordings during the other times of the year. I practice "speaking" the language starting in the spring.

Below are some of the subtle and not so subtle elk sound nuances you will learn to recognize and understand, as categorized, explained and recorded in ElkNut's Playbook and Sounds by the Elk CD. Some will be familiar to you. Others should peak your interest!
Bull Sounds:
Location Bugle

Challenge Bugle

Lip Bawl (Is this made toward cows or other bulls?)

Round Up Bugle

Calling Cows Bugle

Regathering Call

Grunts (Is he speaking to cows or bulls?) Glunking

Chuckles (Speaking to bulls or cows? Why?)

Pants (Speaking to a bull, cows, or both?)

Nervous Grunts (Is this a warning signal, like a bark? Or, something else?)

Tending Glugs (How is it different from glunking?)

Growls (Why and when do they do it?)

"Cow" Call (Do bulls do it?)

Young Bull Bugle
Cow Sounds:
Social Mew

Pre-estrus/Excited

Pleading

Calf Sounds

Whines

Lost or Regathering

Separated

Alarm Mews

Barks

Nervous Grunt (not the same as a bark, but sounds similar!)

Estrus Scream (Few hunters have ever heard this in the wild.)

Distress

Cow Bugle

Start now to learn or remind yourself of what the many elk sound nuances mean and how to replicate them, when to replicate them, or not! (Would you ever do a "bark", or a distress cow sound?) There is much to learn from ElkNut Outdoor Productions. Once you learn to determine the mood of the bull(s) or the herd, you can make an educated plan of action.

Don't limit yourself to just a few well-known elk sounds and then guess what to do next. You CAN learn the various things they are saying. What they say will often tell you what they are doing, or might be getting ready to do.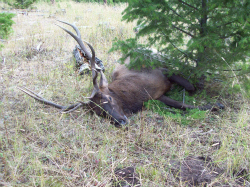 I once cow "pleaded" to a walking away bull doing a locator bugle (meaning he was alone), right before daylight. He commanded me to come to him. I ignored him. He kept up the command as he walked to within five yards of me. He died shortly thereafter. I knew what he was saying. I didn't have to say any more. I just had to set up and wait for him!

You can learn to speak intelligently in response to what you hear from the elk. With ElkNut Outdoor Productions, Sounds by the Elk you can practice right along with Paul, as he identifies what is being said. He then demonstrates the sounds with several live elk recordings. At ElkHuntingTips.Net you'll find all the resources available to continue the learning process, as time allows.

ElkNut Outdoor Productions includes a lot of elk hunting technique and actions to take, based on what you are hearing or seeing. From timid locator bugles, to the "estrus buzz" and pleading sounds, to aggressively running toward a bull with a certain cow talk, or making an aggressive challenge bugle after sneaking right into the herd, to running off some cows and screaming a challenge bugle, you will learn many ways to "improve the chances of close encounters of the herd kind" from ElkNut Outdoor Productions ! Learn the language. Speak intelligently!
---
Lifetime Warranty, Tough Archery Targets
Free Shipping!
---
That's correct! Bulldog Targets come with a lifetime warranty and we'll pay for the shipping directly to your address. These are very tough targets with extremely easy arrow removal. Search for "bulldog" at our online store: Elk Tips Outdoor Gear As always, fee free to Contact Us here. Or call, 406-431-0876. We'd love to talk to you.

Facebook page ElkHuntingTips.Net

Facebook page Elk Tips Outdoor Gear, LLC
---
The view near our home in Garrison, MT

---