Chainsaw Winch Alternative: 
A Horse In A Bag
A chainsaw winch has been used by a lot of hunters to haul elk, deer, or other large game animals out of the field. Some kind of motorized assistance is especially welcome when facing steep inclines. A chain saw winch works pretty well, but it's noisy and can only pull a short distance without starting over. Plus you have to carry it to the animal.
ASAT Elite Performance Series is a high quality camouflage line that is made to help your hunting performance under demanding conditions.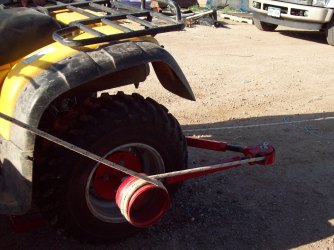 Update: The production of this device is on hold right now. They may have some left. You can call 970-518-5462 to discuss this product with them. I'm hoping that they will resume making them when the economy picks up. Leo and Chris have some other innovative products like the Blood Trail Enhancer and Quick Start Fire Starter Fuel Cells that you might be interested in. 
---
There's another ingenious gas powered winch made specifically for elk retrieval that I'd like to share with you. We met some guys in Broomfield, CO (Denver area) over the 4th of July weekend, 2010, who have invented and manufacture something called a "Horse in a Bag".
The wheel hub of this device attaches to one of the rear wheels of your ATV or UTV utilizing the power of the engine with a continuous winching system.. Their website is http://www.ielki.com. (No longer exists.) You can see a video there of them hauling elk out with it for distances greater than ½ mile in 30 minutes or so.
I stopped by the Infinite Elk Innovations production shop when I was in the area and found it fairly easy to install and very simple to operate this winch.
Faster, Quieter, Farther, Easier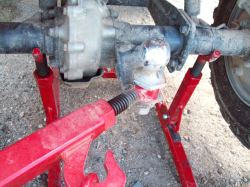 The "Horse in a Bag" is obviously much more powerful than a chainsaw winch. It is limited only by the size of your ATV engine and the length of the rope you wish to carry with you. (These guys gave me valuable advice about an affordable rope option, below.) It's a lot faster and quieter than a chainsaw winch. This winch has been rated to over 3500 pounds of pull. You can pull your animal out whole, keeping it cleaner with very little effort.
ATV Jacks and adjustable hardware included
Using the Horse in a Bag they have been making retrievals of elk up to a mile through heavy timber and sage brush in record time. A 2,800 foot long recovery took them about 30min. They have been pulling out elk up 45 degree slopes through dead fall areas and over logs with it.
A Better Rope
One limiting factor of chainsaw winches is that the rope or cable winds up on the reel and has to be unwound and moved farther away when it gets full. The Horse in a Bag hub assembly lets the rope drop straight into a bucket, nice and neat for the next use. No need to use a short rope.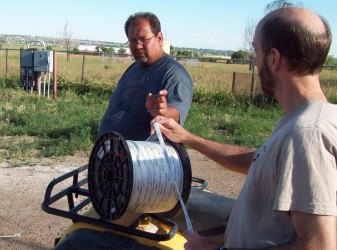 An affordable alternative to heavy, costly rope is "mule tape", or "bull line", used for pulling heavy electrical wiring. For instance, you can buy a 3000' roll of mule tape that is 1/2 inch wide and rated at 1250 pounds of tensile strength for a little over $100. It is lightweight, flat cord that pulls a heavy load without being bulky or expenisve. It works well with the Horse In A Bag winch.
With the Horse in a Bag you never have to cut your rope. The mule tape has one foot increments marked along the entire length, so you know exactly how long your trip or the remaining distance is. Just Google "mule tape" to find the best price.
The Process
For safety it takes three people to operate the Horse in a Bag: One on the gas control, one to keep a light tension on the rope as it comes off the wheel and someone walking along with the load to clear obstacles and redirect the animal's head around obstacles, and perhaps to tie pulleys to trees to make turns, etc. The walker should have radio contact with the operator to tell him when to stop, speed up, etc. The Horse in a Bag can easily go faster than the person walking alongside.
The Horse in a Bag is much more effective, quicker and easier than a chainsaw wench, as long as you can get your ATV within the distance your rope will reach. I've always liked the idea of a chainsaw winch, except for the noise and the tediously slow speed and short distances at a time. I just don't like to make loud engine noises in elk country.
This device seems like a great alternative to a chainsaw winch at a current price of $425. You can easily pay twice that for a chainsaw winch. If you can get a 4-wheeler within a mile of your downed game, you can pull it out effortlessly.
Other Products at Infinite Elk Innovations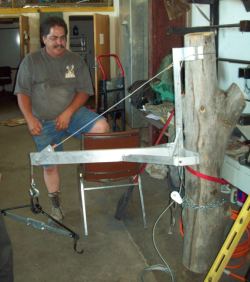 Elkevator: Easy, safe game hanger with game scale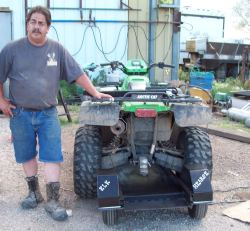 Elk Hearse: Low built game hauler trailer.
---
Please subscribe to or our
Quick Elk Hunting Tips and Updates
newsletter or to an
RSS feed
(see left column for both) to be alerted whenever new information is added to the site.
We'd appreciate it if you would "Like" us on Facebook, or share this site with others.

Use Google Custom Search to search this site:
Custom Search
---
Back to Game Retrieval page, from Chainsaw Winch Alternative page 

Back to Home Page 
---
---